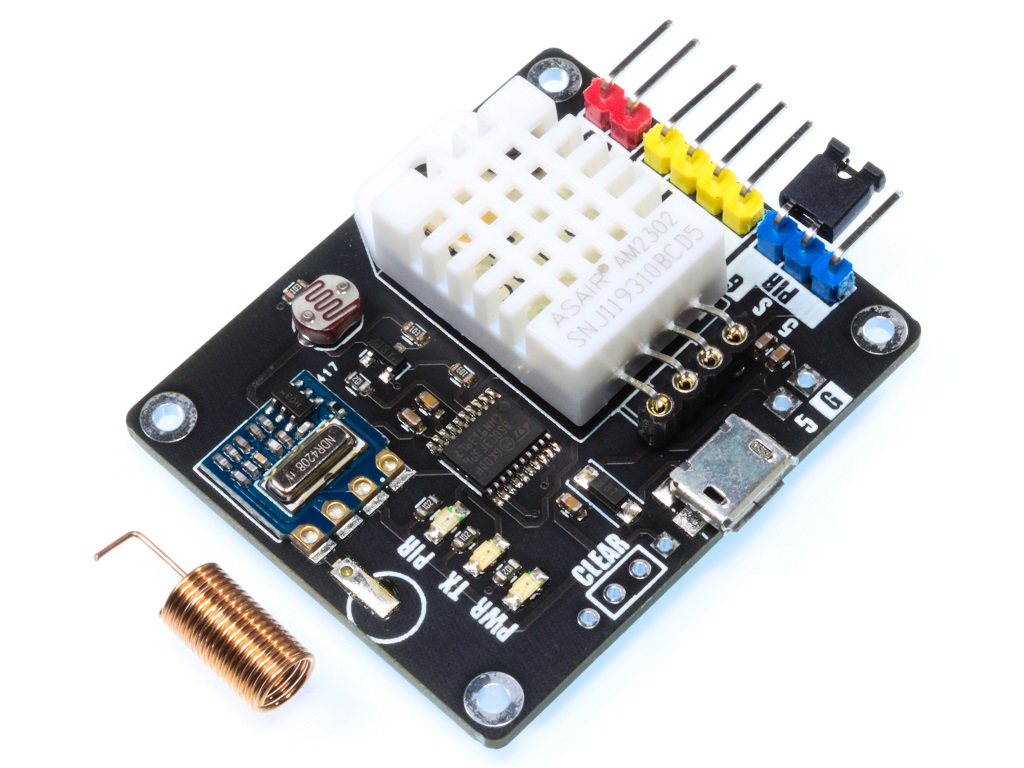 Hey! We've added a new Sensor Module to our exclusive SmartRFy range and wanted to share it here for those who don't see our facebook/twitter/IG posts. Enjoy!
The SmartRFy sensor module adds the option to remotely monitor various sensors via a SmartRFy network connection. The sensor module includes a temperature and humidity sensor (DHT22) and has the ability to measure ambient light levels via an integrated photo-resistor. Out of the box the module will automatically transmit readings from these sensors once every 60 seconds (when reconfigured via the module serial port this can be changed from 10 to 65535 seconds) which can then be received by other SmartRFy devices with receive capability. For example remote sensor readings can be read directly into a computer via a SmartRFy USB module, or a SmartRFy relay module can be configured to trigger depending on sensor values transmitted from a remote sensor module.
The sensor module also includes a header for interfacing common types of 5V PIR motion detectors (see SKU: HCMODU0003). By default the sensor module will transmit the state of a connected PIR whenever its state changes. This transmitted state may then be used by any suitably configured remote SmartRFy module capable of receiving its data.
Additionally, the sensor module includes an auxiliary digital output (labelled SW). This pin can be reconfigured via the sensor module's serial interface to automatically trigger based on max and min values of one of the module's sensors.
Features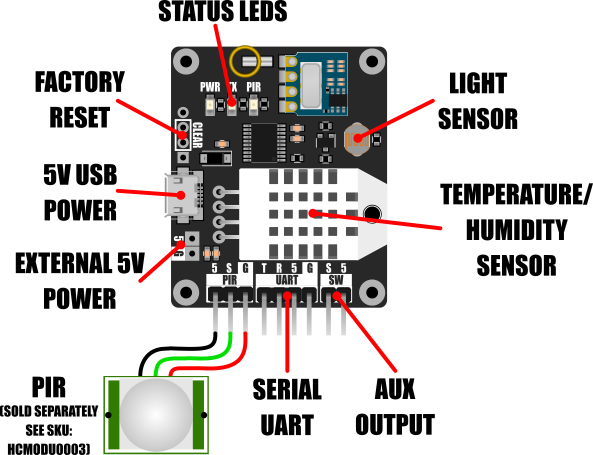 • Local and remote control via simple text based serial commands.
• Up to 255 zones and 255 addresses (default zone 0, address 0).
• Basic automation features (requires a USB to serial adaptor or microcontroller for configuration).
• Compatible with most microcontrollers featuring a serial UART interface.
• Wireless serial communication with 8 different baud rates (9600 default).
• Built-in temperature and humidity sensor (DHT22).
• Built-in light sensor (photoresistor).
• Automatically read and transmit temperature, humidity, and light levels (will transmit readings once every 60 seconds by default).
• Can automatically transmit state changes from a connected PIR sensor.
• Auxiliary digital output can be programmed to automatically trigger based on readings from any of the connected sensors and supports on/off, toggle, and timer modes.
You can view more info on this and all the other SmartRFy modules on our website here.