New library for controlling multiple uOLED displays!
|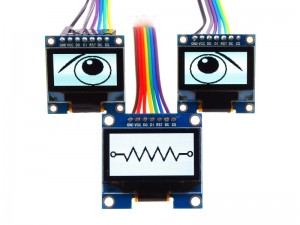 Recently we seem to be having a running theme for wanting to drive multiple displays from a single Arduino, and our latest library is no exception. To coincide with the release of a larger 1.3" version of our ever popular uOLED displays we have also decided to release a new Arduino library to make it easy to control them. Not only does this library provide loads of features such as displaying text, various fonts, graphic commands, and bitmaps, but it also has the ability to control multiple uOLED displays from one Arduino. The only real limit is how many digital pins your Arduino has to spare.
To demonstrate this feature we decided to have a little fun and create a completely different kind of blink sketch…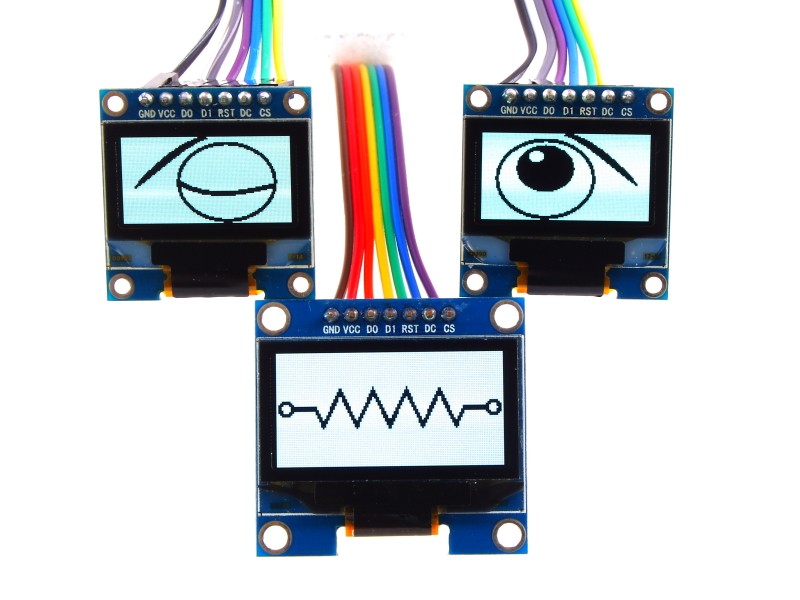 …and all controlled from one little Nano. As you can see you can even have a mix of the smaller 0.96" and the new larger 1.3" displays.
Connecting multiple displays
Each display shares its data and clock pins D0 and D1. You can also share one reset pin if you don't need to reset each display separately. Each additional display only requires 3 extra digital pins for the displays control signals (2 if sharing a reset pin).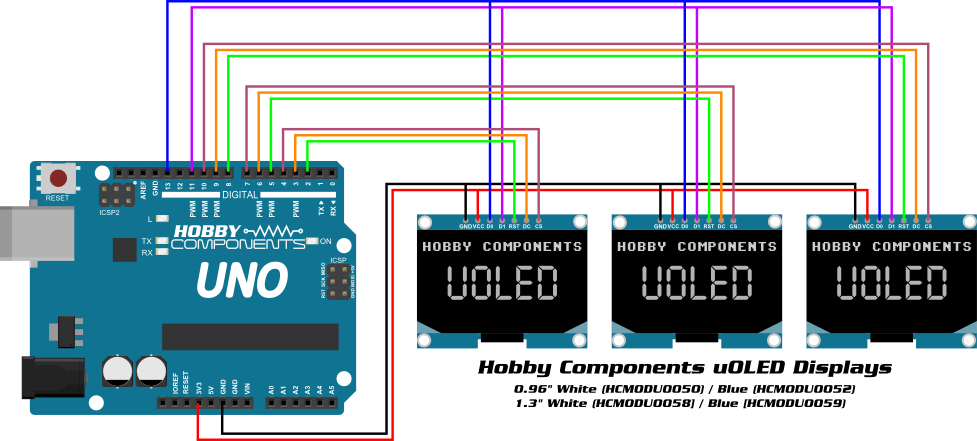 The modules can be found in our shop by searching the following codes:
0.96″ white pixel (HCMODU0050)
0.96" blue pixel (HCMODU0052)
1.3″ white pixel (HCMODU0058)
1.3" blue pixel (HCMODU0059)
The Arduino library can be downloaded from the software section of our support forum here:
Or via Github here.
Please also check out the above link to our support forum as it contains more information about how the library works.
The example "Blink" Sketch…

/* FILE:    HCuOLED_Multiple_Displays
   DATE:    16/04/15
   VERSION: 0.1
   AUTHOR: Andrew Davies
   REVISIONS: 12/03/15 Created version 0.1

This is an example of how to drive multiple uOLED displays using the HCuOLED 
library on a SSD1307 or SH1106 based OLED display module such as:

Hobby Components 0.96" uOLED displays (HCMODU0050 & HCMODU0052)
Hobby Components 1.3" uOLED displays (HCMODU0058 & HCMODU0059)


This sketch will require at least two of the above displays. To use this example
connect your uOLED displays to the following pins of your 
Arduino:


MODULE1..........ARDUINO
GND.............GND
VCC.............3.3V
D0 (CLK)........D13
D1 (DATA).......D11
RST (RESET).....D8
DC..............D9
CS (SS).........D10


MODULE2..........ARDUINO
GND.............GND
VCC.............3.3V
D0 (CLK)........D13
D1 (DATA).......D11
RST (RESET).....D5
DC..............D6
CS (SS).........D7


Optional module 3:

MODULE3..........ARDUINO
GND.............GND
VCC.............3.3V
D0 (CLK)........D13
D1 (DATA).......D11
RST (RESET).....D2
DC..............D3
CS (SS).........D4


You may copy, alter and reuse this code in any way you like, but please leave
reference to HobbyComponents.com in your comments if you redistribute this code.
This software may not be used directly for the purpose of promoting products that
directly compete with Hobby Components Ltd's own range of products.

THIS SOFTWARE IS PROVIDED "AS IS". HOBBY COMPONENTS MAKES NO WARRANTIES, 
WHETHER EXPRESS, IMPLIED OR STATUTORY, INCLUDING, BUT NOT LIMITED TO, IMPLIED 
WARRANTIES OF MERCHANTABILITY AND FITNESS FOR A PARTICULAR PURPOSE, ACCURACY OR
LACK OF NEGLIGENCE. HOBBY COMPONENTS SHALL NOT, IN ANY CIRCUMSTANCES, BE LIABLE
FOR ANY DAMAGES INCLUDING, BUT NOT LIMITED TO, SPECIAL, INCIDENTAL OR 
CONSEQUENTIAL DAMAGES FOR ANY REASON WHATSOEVER. */

#include "HCuOLED.h"
#include "SPI.h"

/* Bitmap data for left eye animation */
const PROGMEM byte Eye_Left[][1024] =
{
{	0xFF, 0xFF, 0xFF, 0xFF, 0xFF, 0xFF, 0xFF, 0xFF, 0xFF, 0xFF, 0xFF, 0xFF, 0xFF, 0xFF, 0xFF, 0xFF, 0xFF, 0xFF, 0xFF, 0xFF, 0xFF, 0xFF, 0xFF, 0xFF, 0xFF, 0xFF, 0xFF, 0xFF, 0xFF, 0xFF, 0xFF, 0xFF, 0xFF, 0xFF, 0xFF, 0xFF, 0xFF, 0xFF, 0xFF, 0xFF, 0xFF, 0xFF, 0xFF, 0x7F, 0x3F, 0x3F, 0x1F, 0x1F, 0x0F, 0x0F, 0x07, 0x07, 0x07, 0x83, 0x83, 0xC1, 0xE1, 0xE1, 0xF0, 0xF0, 0xF8, 0x78, 0x78, 0x3C, 0x3C, 0x3D, 0x1F, 0x1F, 0x1F, 0x1F, 0x8F, 0x8F, 0x8F, 0x8F, 0x8F, 0x8F, 0x8F, 0x8F, 0xCF, 0xCF, 0xCF, 0x8F, 0x8F, 0x8F, 0x8F, 0x8F, 0x8F, 0x8F, 0x8F, 0x1F, 0x1F, 0x1F, 0x1F, 0x3F, 0x3F, 0x3F, 0x7F, 0x7F, 0xFF, 0xFF, 0xFF, 0xFF, 0xFF, 0xFF, 0xFF, 0xFF, 0xFF, 0xFF, 0xFF, 0xFF, 0xFF, 0xFF, 0xFF, 0xFF, 0xFF, 0xFF, 0xFF, 0xFF, 0xFF, 0xFF, 0xFF, 0xFF, 0xFF, 0xFF, 0xFF, 0xFF, 0xFF, 0xFF, 
	0xFF, 0xFF, 0xFF, 0xFF, 0xFF, 0xFF, 0xFF, 0xFF, 0xFF, 0xFF, 0xFF, 0xFF, 0xFF, 0xFF, 0xFF, 0xFF, 0xFF, 0xFF, 0xFF, 0xFF, 0xFF, 0xFF, 0xFF, 0xFF, 0xFF, 0xFF, 0xFF, 0xFF, 0xFF, 0xFF, 0xFF, 0x7F, 0x3F, 0x3F, 0x1F, 0x0F, 0x07, 0x07, 0x03, 0x03, 0x01, 0x80, 0xC0, 0xC0, 0xE0, 0xF0, 0xF8, 0xF8, 0xFC, 0x7E, 0x3E, 0x1F, 0x0F, 0x8F, 0xC7, 0xC3, 0xE3, 0xF1, 0xF0, 0xF8, 0xF8, 0xFC, 0x7C, 0x3E, 0x1E, 0x0E, 0x0F, 0x0F, 0x87, 0xC7, 0xE3, 0xE3, 0xE1, 0xE1, 0xE1, 0xE1, 0xE1, 0xC1, 0x81, 0x00, 0x01, 0x01, 0x01, 0x01, 0x01, 0x01, 0x01, 0x03, 0x03, 0x03, 0x07, 0x07, 0x0F, 0x0E, 0x1E, 0x3C, 0x7C, 0xFC, 0xF8, 0xF8, 0xF1, 0xE1, 0xE3, 0xC3, 0xC7, 0x8F, 0x0F, 0x1F, 0x3F, 0x7F, 0xFF, 0xFF, 0xFF, 0xFF, 0xFF, 0xFF, 0xFF, 0xFF, 0xFF, 0xFF, 0xFF, 0xFF, 0xFF, 0xFF, 0xFF, 0xFF, 0xFF, 0xFF, 
	0xFF, 0xFF, 0xFF, 0xFF, 0xFF, 0xFF, 0xFF, 0xFF, 0xFF, 0xFF, 0xFF, 0xFF, 0xFF, 0xFF, 0xFF, 0xFF, 0xFF, 0xFF, 0xFF, 0xFF, 0xFF, 0xFF, 0x7F, 0x3F, 0x1F, 0x0F, 0x07, 0x03, 0x03, 0x01, 0x80, 0xC0, 0xC0, 0xE0, 0xF0, 0xF8, 0xF8, 0xFC, 0xFE, 0xFF, 0xFF, 0xFF, 0xFF, 0x7F, 0x1F, 0x0F, 0x03, 0xC1, 0xE0, 0xF8, 0xFC, 0xFE, 0xFF, 0xFF, 0xFF, 0xFF, 0xFF, 0xFF, 0x1F, 0x03, 0x01, 0x00, 0x00, 0x00, 0x00, 0x00, 0x00, 0x00, 0x07, 0x0F, 0x0F, 0x1F, 0x1F, 0x1F, 0x1F, 0x1F, 0x0F, 0x0F, 0x07, 0x00, 0x00, 0x00, 0x00, 0x00, 0x00, 0x00, 0x00, 0x00, 0x00, 0x00, 0x00, 0x00, 0x00, 0x00, 0x00, 0x00, 0x00, 0x00, 0x01, 0x03, 0x0F, 0xFF, 0xFF, 0xFF, 0xFF, 0xFF, 0xFF, 0xFE, 0xFC, 0xF8, 0xE0, 0xC1, 0x07, 0x0F, 0x3F, 0xFF, 0xFF, 0xFF, 0xFF, 0xFF, 0xFF, 0xFF, 0xFF, 0xFF, 0xFF, 0xFF, 0xFF, 0xFF, 
	0xFF, 0xFF, 0xFF, 0xFF, 0xFF, 0xFF, 0xFF, 0xFF, 0xFF, 0xFF, 0xFF, 0xFF, 0xFF, 0x7F, 0x3F, 0x1F, 0x0F, 0x07, 0x03, 0x81, 0x80, 0xC0, 0xE0, 0xF0, 0xF0, 0xF8, 0xFC, 0xFE, 0xFE, 0xFF, 0xFF, 0xFF, 0xFF, 0xFF, 0xFF, 0xFF, 0xFF, 0xFF, 0xFF, 0xFF, 0xFF, 0x7F, 0x03, 0x00, 0xC0, 0xFC, 0xFF, 0xFF, 0xFF, 0xFF, 0xFF, 0xFF, 0xFF, 0xFF, 0xFF, 0xFF, 0xFF, 0xF9, 0x80, 0x00, 0x00, 0x00, 0x00, 0x00, 0x00, 0x00, 0x00, 0x00, 0x00, 0x00, 0x00, 0x00, 0x00, 0x00, 0x00, 0x00, 0x00, 0x00, 0x00, 0x00, 0x00, 0x00, 0x00, 0x00, 0x00, 0x00, 0x00, 0x00, 0x00, 0x00, 0x00, 0x00, 0x00, 0x00, 0x00, 0x00, 0x00, 0x00, 0x00, 0x00, 0x80, 0xF0, 0xFF, 0xFF, 0xFF, 0xFF, 0xFF, 0xFF, 0xFF, 0xFF, 0xFF, 0xFF, 0xFF, 0xF8, 0x80, 0x00, 0x03, 0xFF, 0xFF, 0xFF, 0xFF, 0xFF, 0xFF, 0xFF, 0xFF, 0xFF, 0xFF, 0xFF, 
	0xFF, 0xFF, 0xFF, 0xFF, 0xFF, 0xFF, 0xFF, 0xFF, 0xFF, 0xCF, 0xC7, 0xE3, 0xF0, 0xF0, 0xF8, 0xFC, 0xFC, 0xFE, 0xFF, 0xFF, 0xFF, 0xFF, 0xFF, 0xFF, 0xFF, 0xFF, 0xFF, 0xFF, 0xFF, 0xFF, 0xFF, 0xFF, 0xFF, 0xFF, 0xFF, 0xFF, 0xFF, 0xFF, 0xFF, 0xFF, 0xFF, 0xE0, 0x00, 0x00, 0x1F, 0xFF, 0xFF, 0xFF, 0xFF, 0xFF, 0xFF, 0xFF, 0xFF, 0xFF, 0xFF, 0xFF, 0xFF, 0xFF, 0xFF, 0xFE, 0xF8, 0xF0, 0xE0, 0xC0, 0x80, 0x80, 0x00, 0x00, 0x00, 0x00, 0x00, 0x00, 0x00, 0x00, 0x00, 0x00, 0x00, 0x00, 0x00, 0x00, 0x00, 0x00, 0x00, 0x00, 0x00, 0x00, 0x00, 0x00, 0x00, 0x00, 0x00, 0x00, 0x00, 0x80, 0x80, 0xC0, 0xE0, 0xF0, 0xF8, 0xFC, 0xFF, 0xFF, 0xFF, 0xFF, 0xFF, 0xFF, 0xFF, 0xFF, 0xFF, 0xFF, 0xFF, 0xFF, 0xFF, 0xFF, 0x0F, 0x00, 0x00, 0xF8, 0xFF, 0xFF, 0xFF, 0xFF, 0xFF, 0xFF, 0xFF, 0xFF, 0xFF, 0xFF, 
	0xFF, 0xFF, 0xFF, 0xFF, 0xFF, 0xFF, 0xFF, 0xFF, 0xFF, 0xFF, 0xFF, 0xFF, 0xFF, 0xFF, 0xFF, 0xFF, 0xFF, 0xFF, 0xFF, 0xFF, 0xFF, 0xFF, 0xFF, 0xFF, 0xFF, 0xFF, 0xFF, 0xFF, 0xFF, 0xFF, 0xFF, 0xFF, 0xFF, 0xFF, 0xFF, 0xFF, 0xFF, 0xFF, 0xFF, 0xFF, 0xFF, 0xFF, 0xFE, 0xF0, 0xC0, 0x81, 0x0F, 0x1F, 0x7F, 0xFF, 0xFF, 0xFF, 0xFF, 0xFF, 0xFF, 0xFF, 0xFF, 0xFF, 0xFF, 0xFF, 0xFF, 0xFF, 0xFF, 0xFF, 0xFF, 0xFF, 0xFF, 0xFF, 0xFE, 0xFE, 0xFC, 0xFC, 0xFC, 0xF8, 0xF8, 0xF8, 0xF8, 0xF8, 0xF8, 0xF8, 0xF8, 0xF8, 0xF8, 0xF8, 0xF8, 0xF8, 0xFC, 0xFC, 0xFC, 0xFE, 0xFE, 0xFF, 0xFF, 0xFF, 0xFF, 0xFF, 0xFF, 0xFF, 0xFF, 0xFF, 0xFF, 0xFF, 0xFF, 0xFF, 0xFF, 0xFF, 0xFF, 0xFF, 0xFF, 0xFF, 0x3F, 0x1F, 0x07, 0x81, 0xC0, 0xF8, 0xFE, 0xFF, 0xFF, 0xFF, 0xFF, 0xFF, 0xFF, 0xFF, 0xFF, 0xFF, 0xFF, 0xFF, 
	0xFF, 0xFF, 0xFF, 0xFF, 0xFF, 0xFF, 0xFF, 0xFF, 0xFF, 0xFF, 0xFF, 0xFF, 0xFF, 0xFF, 0xFF, 0xFF, 0xFF, 0xFF, 0xFF, 0xFF, 0xFF, 0xFF, 0xFF, 0xFF, 0xFF, 0xFF, 0xFF, 0xFF, 0xFF, 0xFF, 0xFF, 0xFF, 0xFF, 0xFF, 0xFF, 0xFF, 0xFF, 0xFF, 0xFF, 0xFF, 0xFF, 0xFF, 0xFF, 0xFF, 0xFF, 0xFF, 0xFE, 0xFC, 0xF8, 0xF0, 0xE1, 0xC3, 0x87, 0x0F, 0x1F, 0x3F, 0x3F, 0x7F, 0x7F, 0xFF, 0xFF, 0xFF, 0xFF, 0xFF, 0xFF, 0xFF, 0xFF, 0xFF, 0xFF, 0xFF, 0xFF, 0xFF, 0xFF, 0xFF, 0xFF, 0xFF, 0xFF, 0xFF, 0xFF, 0xFF, 0xFF, 0xFF, 0xFF, 0xFF, 0xFF, 0xFF, 0xFF, 0xFF, 0xFF, 0xFF, 0xFF, 0xFF, 0xFF, 0xFF, 0xFF, 0xFF, 0xFF, 0xFF, 0xFF, 0xFF, 0x7F, 0x7F, 0x3F, 0x1F, 0x1F, 0x0F, 0x87, 0xC3, 0xE1, 0xF0, 0xF8, 0xFC, 0xFE, 0xFF, 0xFF, 0xFF, 0xFF, 0xFF, 0xFF, 0xFF, 0xFF, 0xFF, 0xFF, 0xFF, 0xFF, 0xFF, 0xFF, 0xFF, 
	0xFF, 0xFF, 0xFF, 0xFF, 0xFF, 0xFF, 0xFF, 0xFF, 0xFF, 0xFF, 0xFF, 0xFF, 0xFF, 0xFF, 0xFF, 0xFF, 0xFF, 0xFF, 0xFF, 0xFF, 0xFF, 0xFF, 0xFF, 0xFF, 0xFF, 0xFF, 0xFF, 0xFF, 0xFF, 0xFF, 0xFF, 0xFF, 0xFF, 0xFF, 0xFF, 0xFF, 0xFF, 0xFF, 0xFF, 0xFF, 0xFF, 0xFF, 0xFF, 0xFF, 0xFF, 0xFF, 0xFF, 0xFF, 0xFF, 0xFF, 0xFF, 0xFF, 0xFF, 0xFF, 0xFF, 0xFE, 0xFC, 0xFC, 0xF8, 0xF8, 0xF1, 0xF1, 0xE1, 0xE3, 0xE3, 0xC7, 0xC7, 0xC7, 0xC7, 0x8F, 0x8F, 0x8F, 0x8F, 0x8F, 0x8F, 0x9F, 0x1F, 0x1F, 0x1F, 0x1F, 0x1F, 0x1F, 0x1F, 0x9F, 0x8F, 0x8F, 0x8F, 0x8F, 0x8F, 0x8F, 0xC7, 0xC7, 0xC7, 0xC7, 0xE3, 0xE3, 0xF1, 0xF1, 0xF0, 0xF8, 0xF8, 0xFC, 0xFC, 0xFE, 0xFF, 0xFF, 0xFF, 0xFF, 0xFF, 0xFF, 0xFF, 0xFF, 0xFF, 0xFF, 0xFF, 0xFF, 0xFF, 0xFF, 0xFF, 0xFF, 0xFF, 0xFF, 0xFF, 0xFF, 0xFF, 0xFF, 0xFF, 0xFF, 
},
{	0xFF, 0xFF, 0xFF, 0xFF, 0xFF, 0xFF, 0xFF, 0xFF, 0xFF, 0xFF, 0xFF, 0xFF, 0xFF, 0xFF, 0xFF, 0xFF, 0xFF, 0xFF, 0xFF, 0xFF, 0xFF, 0xFF, 0xFF, 0xFF, 0xFF, 0xFF, 0xFF, 0xFF, 0xFF, 0xFF, 0xFF, 0xFF, 0xFF, 0xFF, 0xFF, 0xFF, 0xFF, 0xFF, 0xFF, 0xFF, 0xFF, 0xFF, 0xFF, 0x7F, 0x3F, 0x3F, 0x1F, 0x1F, 0x0F, 0x0F, 0x07, 0x07, 0x07, 0x83, 0x83, 0xC1, 0xE1, 0xE1, 0xF0, 0xF0, 0xF8, 0x78, 0x78, 0x3C, 0x3C, 0x3D, 0x1F, 0x1F, 0x1F, 0x1F, 0x8F, 0x8F, 0x8F, 0x8F, 0x8F, 0x8F, 0x8F, 0x8F, 0xCF, 0xCF, 0xCF, 0x8F, 0x8F, 0x8F, 0x8F, 0x8F, 0x8F, 0x8F, 0x8F, 0x1F, 0x1F, 0x1F, 0x1F, 0x3F, 0x3F, 0x3F, 0x7F, 0x7F, 0xFF, 0xFF, 0xFF, 0xFF, 0xFF, 0xFF, 0xFF, 0xFF, 0xFF, 0xFF, 0xFF, 0xFF, 0xFF, 0xFF, 0xFF, 0xFF, 0xFF, 0xFF, 0xFF, 0xFF, 0xFF, 0xFF, 0xFF, 0xFF, 0xFF, 0xFF, 0xFF, 0xFF, 0xFF, 0xFF, 
	0xFF, 0xFF, 0xFF, 0xFF, 0xFF, 0xFF, 0xFF, 0xFF, 0xFF, 0xFF, 0xFF, 0xFF, 0xFF, 0xFF, 0xFF, 0xFF, 0xFF, 0xFF, 0xFF, 0xFF, 0xFF, 0xFF, 0xFF, 0xFF, 0xFF, 0xFF, 0xFF, 0xFF, 0xFF, 0xFF, 0xFF, 0x7F, 0x3F, 0x3F, 0x1F, 0x0F, 0x07, 0x07, 0x03, 0x03, 0x01, 0x80, 0xC0, 0xC0, 0xE0, 0xF0, 0xF8, 0xF8, 0xFC, 0x7E, 0x3E, 0x1F, 0x0F, 0x8F, 0xC7, 0xC3, 0xE3, 0xF1, 0xF0, 0xF8, 0xF8, 0xFC, 0xFC, 0xFE, 0xFE, 0xFE, 0xFF, 0xFF, 0xFF, 0xFF, 0xFF, 0xFF, 0xFF, 0xFF, 0xFF, 0xFF, 0xFF, 0xFF, 0xFF, 0xFF, 0xFF, 0xFF, 0xFF, 0xFF, 0xFF, 0xFF, 0xFF, 0xFF, 0xFF, 0xFF, 0xFF, 0xFF, 0xFF, 0xFE, 0xFE, 0xFC, 0xFC, 0xFC, 0xF8, 0xF8, 0xF1, 0xE1, 0xE3, 0xC3, 0xC7, 0x8F, 0x0F, 0x1F, 0x3F, 0x7F, 0xFF, 0xFF, 0xFF, 0xFF, 0xFF, 0xFF, 0xFF, 0xFF, 0xFF, 0xFF, 0xFF, 0xFF, 0xFF, 0xFF, 0xFF, 0xFF, 0xFF, 0xFF, 
	0xFF, 0xFF, 0xFF, 0xFF, 0xFF, 0xFF, 0xFF, 0xFF, 0xFF, 0xFF, 0xFF, 0xFF, 0xFF, 0xFF, 0xFF, 0xFF, 0xFF, 0xFF, 0xFF, 0xFF, 0xFF, 0xFF, 0x7F, 0x3F, 0x1F, 0x0F, 0x07, 0x03, 0x03, 0x01, 0x80, 0xC0, 0xC0, 0xE0, 0xF0, 0xF8, 0xF8, 0xFC, 0xFE, 0xFF, 0xFF, 0xFF, 0xFF, 0x7F, 0x1F, 0x0F, 0x03, 0xC1, 0xE0, 0xF8, 0xFC, 0xFE, 0xFF, 0xFF, 0xFF, 0xFF, 0xFF, 0xFF, 0xFF, 0xFF, 0xFF, 0xFF, 0xFF, 0xFF, 0xFF, 0xFF, 0xFF, 0xFF, 0xFF, 0xFF, 0xFF, 0xFF, 0xFF, 0xFF, 0xFF, 0xFF, 0xFF, 0xFF, 0xFF, 0xFF, 0xFF, 0xFF, 0xFF, 0xFF, 0xFF, 0xFF, 0xFF, 0xFF, 0xFF, 0xFF, 0xFF, 0xFF, 0xFF, 0xFF, 0xFF, 0xFF, 0xFF, 0xFF, 0xFF, 0xFF, 0xFF, 0xFF, 0xFF, 0xFF, 0xFF, 0xFF, 0xFF, 0xFE, 0xFC, 0xF8, 0xE0, 0xC1, 0x07, 0x0F, 0x3F, 0xFF, 0xFF, 0xFF, 0xFF, 0xFF, 0xFF, 0xFF, 0xFF, 0xFF, 0xFF, 0xFF, 0xFF, 0xFF, 
	0xFF, 0xFF, 0xFF, 0xFF, 0xFF, 0xFF, 0xFF, 0xFF, 0xFF, 0xFF, 0xFF, 0xFF, 0xFF, 0x7F, 0x3F, 0x1F, 0x0F, 0x07, 0x03, 0x81, 0x80, 0xC0, 0xE0, 0xF0, 0xF0, 0xF8, 0xFC, 0xFE, 0xFE, 0xFF, 0xFF, 0xFF, 0xFF, 0xFF, 0xFF, 0xFF, 0xFF, 0xFF, 0xFF, 0xFF, 0xFF, 0x7F, 0x03, 0x00, 0xC0, 0xFC, 0xFF, 0xFF, 0xFF, 0xFF, 0xFF, 0xFF, 0xFF, 0xFF, 0xFF, 0xFF, 0xFF, 0xFF, 0xFF, 0xFF, 0xFF, 0xFF, 0xFF, 0xFF, 0xFF, 0xFF, 0xFF, 0xFF, 0xFF, 0xFF, 0xFF, 0xFF, 0xFF, 0xFF, 0xFF, 0xFF, 0xFF, 0xFF, 0xFF, 0xFF, 0xFF, 0xFF, 0xFF, 0xFF, 0xFF, 0xFF, 0xFF, 0xFF, 0xFF, 0xFF, 0xFF, 0xFF, 0xFF, 0xFF, 0xFF, 0xFF, 0xFF, 0xFF, 0xFF, 0xFF, 0xFF, 0xFF, 0xFF, 0xFF, 0xFF, 0xFF, 0xFF, 0xFF, 0xFF, 0xFF, 0xFF, 0xFF, 0xFF, 0xF8, 0x80, 0x00, 0x03, 0xFF, 0xFF, 0xFF, 0xFF, 0xFF, 0xFF, 0xFF, 0xFF, 0xFF, 0xFF, 0xFF, 
	0xFF, 0xFF, 0xFF, 0xFF, 0xFF, 0xFF, 0xFF, 0xFF, 0xFF, 0xCF, 0xC7, 0xE3, 0xF0, 0xF0, 0xF8, 0xFC, 0xFC, 0xFE, 0xFF, 0xFF, 0xFF, 0xFF, 0xFF, 0xFF, 0xFF, 0xFF, 0xFF, 0xFF, 0xFF, 0xFF, 0xFF, 0xFF, 0xFF, 0xFF, 0xFF, 0xFF, 0xFF, 0xFF, 0xFF, 0xFF, 0xFF, 0xE0, 0x00, 0x00, 0x00, 0xE1, 0xC1, 0xC3, 0x83, 0x87, 0x07, 0x0F, 0x0F, 0x1F, 0x1F, 0x1F, 0x1F, 0x3F, 0x3F, 0x3F, 0x7F, 0x7F, 0x7F, 0x7F, 0x7F, 0x7F, 0xFF, 0xFF, 0xFF, 0xFF, 0xFF, 0xFF, 0xFF, 0xFF, 0xFF, 0xFF, 0xFF, 0xFF, 0xFF, 0xFF, 0xFF, 0xFF, 0xFF, 0xFF, 0xFF, 0xFF, 0xFF, 0xFF, 0x7F, 0x7F, 0x7F, 0x7F, 0x7F, 0x7F, 0x7F, 0x3F, 0x3F, 0x3F, 0x3F, 0x3F, 0x3F, 0x1F, 0x1F, 0x1F, 0x1F, 0x1F, 0x0F, 0x0F, 0x0F, 0x0F, 0x8F, 0x87, 0x87, 0x87, 0x07, 0x00, 0x00, 0xF8, 0xFF, 0xFF, 0xFF, 0xFF, 0xFF, 0xFF, 0xFF, 0xFF, 0xFF, 0xFF, 
	0xFF, 0xFF, 0xFF, 0xFF, 0xFF, 0xFF, 0xFF, 0xFF, 0xFF, 0xFF, 0xFF, 0xFF, 0xFF, 0xFF, 0xFF, 0xFF, 0xFF, 0xFF, 0xFF, 0xFF, 0xFF, 0xFF, 0xFF, 0xFF, 0xFF, 0xFF, 0xFF, 0xFF, 0xFF, 0xFF, 0xFF, 0xFF, 0xFF, 0xFF, 0xFF, 0xFF, 0xFF, 0xFF, 0xFF, 0xFF, 0xFF, 0xFF, 0xFE, 0xF0, 0xC0, 0x81, 0x0F, 0x1F, 0x7F, 0xFF, 0xFF, 0xFF, 0xFF, 0xFE, 0xFE, 0xFE, 0xFE, 0xFC, 0xFC, 0xFC, 0xF8, 0xF8, 0xF8, 0xF8, 0xF8, 0xF8, 0xF8, 0xF0, 0xF0, 0xF0, 0xF0, 0xF0, 0xF0, 0xF0, 0xF0, 0xF0, 0xF0, 0xF0, 0xF0, 0xF0, 0xF0, 0xF0, 0xF0, 0xF0, 0xF0, 0xF0, 0xF8, 0xF8, 0xF8, 0xF8, 0xF8, 0xF8, 0xF8, 0xF8, 0xFC, 0xFC, 0xFC, 0xFC, 0xFC, 0xFC, 0xFE, 0xFE, 0xFE, 0xFE, 0xFE, 0xFF, 0xFF, 0xFF, 0xFF, 0xFF, 0x3F, 0x1F, 0x07, 0x81, 0xC0, 0xF8, 0xFE, 0xFF, 0xFF, 0xFF, 0xFF, 0xFF, 0xFF, 0xFF, 0xFF, 0xFF, 0xFF, 0xFF, 
	0xFF, 0xFF, 0xFF, 0xFF, 0xFF, 0xFF, 0xFF, 0xFF, 0xFF, 0xFF, 0xFF, 0xFF, 0xFF, 0xFF, 0xFF, 0xFF, 0xFF, 0xFF, 0xFF, 0xFF, 0xFF, 0xFF, 0xFF, 0xFF, 0xFF, 0xFF, 0xFF, 0xFF, 0xFF, 0xFF, 0xFF, 0xFF, 0xFF, 0xFF, 0xFF, 0xFF, 0xFF, 0xFF, 0xFF, 0xFF, 0xFF, 0xFF, 0xFF, 0xFF, 0xFF, 0xFF, 0xFE, 0xFC, 0xF8, 0xF0, 0xE1, 0xC3, 0x87, 0x0F, 0x1F, 0x3F, 0x3F, 0x7F, 0x7F, 0xFF, 0xFF, 0xFF, 0xFF, 0xFF, 0xFF, 0xFF, 0xFF, 0xFF, 0xFF, 0xFF, 0xFF, 0xFF, 0xFF, 0xFF, 0xFF, 0xFF, 0xFF, 0xFF, 0xFF, 0xFF, 0xFF, 0xFF, 0xFF, 0xFF, 0xFF, 0xFF, 0xFF, 0xFF, 0xFF, 0xFF, 0xFF, 0xFF, 0xFF, 0xFF, 0xFF, 0xFF, 0xFF, 0xFF, 0xFF, 0xFF, 0x7F, 0x7F, 0x3F, 0x1F, 0x1F, 0x0F, 0x87, 0xC3, 0xE1, 0xF0, 0xF8, 0xFC, 0xFE, 0xFF, 0xFF, 0xFF, 0xFF, 0xFF, 0xFF, 0xFF, 0xFF, 0xFF, 0xFF, 0xFF, 0xFF, 0xFF, 0xFF, 0xFF, 
	0xFF, 0xFF, 0xFF, 0xFF, 0xFF, 0xFF, 0xFF, 0xFF, 0xFF, 0xFF, 0xFF, 0xFF, 0xFF, 0xFF, 0xFF, 0xFF, 0xFF, 0xFF, 0xFF, 0xFF, 0xFF, 0xFF, 0xFF, 0xFF, 0xFF, 0xFF, 0xFF, 0xFF, 0xFF, 0xFF, 0xFF, 0xFF, 0xFF, 0xFF, 0xFF, 0xFF, 0xFF, 0xFF, 0xFF, 0xFF, 0xFF, 0xFF, 0xFF, 0xFF, 0xFF, 0xFF, 0xFF, 0xFF, 0xFF, 0xFF, 0xFF, 0xFF, 0xFF, 0xFF, 0xFF, 0xFE, 0xFC, 0xFC, 0xF8, 0xF8, 0xF1, 0xF1, 0xE1, 0xE3, 0xE3, 0xC7, 0xC7, 0xC7, 0xC7, 0x8F, 0x8F, 0x8F, 0x8F, 0x8F, 0x8F, 0x9F, 0x1F, 0x1F, 0x1F, 0x1F, 0x1F, 0x1F, 0x1F, 0x9F, 0x8F, 0x8F, 0x8F, 0x8F, 0x8F, 0x8F, 0xC7, 0xC7, 0xC7, 0xC7, 0xE3, 0xE3, 0xF1, 0xF1, 0xF0, 0xF8, 0xF8, 0xFC, 0xFC, 0xFE, 0xFF, 0xFF, 0xFF, 0xFF, 0xFF, 0xFF, 0xFF, 0xFF, 0xFF, 0xFF, 0xFF, 0xFF, 0xFF, 0xFF, 0xFF, 0xFF, 0xFF, 0xFF, 0xFF, 0xFF, 0xFF, 0xFF, 0xFF, 0xFF, 
}};

/* Bitmap data for right eye animation */
const PROGMEM byte Eye_Right[][1024] =
{
{	0xFF, 0xFF, 0xFF, 0xFF, 0xFF, 0xFF, 0xFF, 0xFF, 0xFF, 0xFF, 0xFF, 0xFF, 0xFF, 0xFF, 0xFF, 0xFF, 0xFF, 0xFF, 0xFF, 0xFF, 0xFF, 0xFF, 0xFF, 0xFF, 0xFF, 0xFF, 0xFF, 0xFF, 0xFF, 0xFF, 0x7F, 0x7F, 0x3F, 0x3F, 0x3F, 0x1F, 0x1F, 0x1F, 0x1F, 0x8F, 0x8F, 0x8F, 0x8F, 0x8F, 0x8F, 0x8F, 0x8F, 0xCF, 0xCF, 0xCF, 0x8F, 0x8F, 0x8F, 0x8F, 0x8F, 0x8F, 0x8F, 0x8F, 0x1F, 0x1F, 0x1F, 0x1F, 0x3D, 0x3C, 0x3C, 0x78, 0x78, 0xF8, 0xF0, 0xF0, 0xE1, 0xE1, 0xC1, 0x83, 0x83, 0x07, 0x07, 0x07, 0x0F, 0x0F, 0x1F, 0x1F, 0x3F, 0x3F, 0x7F, 0xFF, 0xFF, 0xFF, 0xFF, 0xFF, 0xFF, 0xFF, 0xFF, 0xFF, 0xFF, 0xFF, 0xFF, 0xFF, 0xFF, 0xFF, 0xFF, 0xFF, 0xFF, 0xFF, 0xFF, 0xFF, 0xFF, 0xFF, 0xFF, 0xFF, 0xFF, 0xFF, 0xFF, 0xFF, 0xFF, 0xFF, 0xFF, 0xFF, 0xFF, 0xFF, 0xFF, 0xFF, 0xFF, 0xFF, 0xFF, 0xFF, 0xFF, 0xFF, 
	0xFF, 0xFF, 0xFF, 0xFF, 0xFF, 0xFF, 0xFF, 0xFF, 0xFF, 0xFF, 0xFF, 0xFF, 0xFF, 0xFF, 0xFF, 0xFF, 0xFF, 0xFF, 0x7F, 0x3F, 0x1F, 0x0F, 0x8F, 0xC7, 0xC3, 0xE3, 0xE1, 0xF1, 0xF8, 0xF8, 0xFC, 0x7C, 0x3C, 0x1E, 0x0E, 0x0F, 0x87, 0xC7, 0xC3, 0xE3, 0xE3, 0xE1, 0xE1, 0xE1, 0xC1, 0xC1, 0x81, 0x01, 0x00, 0x01, 0x01, 0x01, 0x01, 0x01, 0x01, 0x01, 0x03, 0x03, 0x07, 0x07, 0x0F, 0x0F, 0x0E, 0x1E, 0x3E, 0x7C, 0xFC, 0xF8, 0xF8, 0xF0, 0xF1, 0xE3, 0xC3, 0xC7, 0x8F, 0x0F, 0x1F, 0x3E, 0x7E, 0xFC, 0xF8, 0xF8, 0xF0, 0xE0, 0xC0, 0xC0, 0x80, 0x01, 0x03, 0x03, 0x07, 0x07, 0x0F, 0x1F, 0x3F, 0x3F, 0x7F, 0xFF, 0xFF, 0xFF, 0xFF, 0xFF, 0xFF, 0xFF, 0xFF, 0xFF, 0xFF, 0xFF, 0xFF, 0xFF, 0xFF, 0xFF, 0xFF, 0xFF, 0xFF, 0xFF, 0xFF, 0xFF, 0xFF, 0xFF, 0xFF, 0xFF, 0xFF, 0xFF, 0xFF, 0xFF, 0xFF, 0xFF, 
	0xFF, 0xFF, 0xFF, 0xFF, 0xFF, 0xFF, 0xFF, 0xFF, 0xFF, 0xFF, 0xFF, 0xFF, 0xFF, 0x3F, 0x0F, 0x07, 0xC1, 0xE0, 0xF8, 0xFC, 0xFE, 0xFF, 0xFF, 0xFF, 0xFF, 0xFF, 0xFF, 0x0F, 0x03, 0x01, 0x00, 0x00, 0x00, 0x00, 0x00, 0x00, 0x07, 0x0F, 0x1F, 0x1F, 0x1F, 0x1F, 0x1F, 0x1F, 0x0F, 0x0F, 0x07, 0x00, 0x00, 0x00, 0x00, 0x00, 0x00, 0x00, 0x00, 0x00, 0x00, 0x00, 0x00, 0x00, 0x00, 0x00, 0x00, 0x00, 0x00, 0x00, 0x00, 0x01, 0x03, 0x1F, 0xFF, 0xFF, 0xFF, 0xFF, 0xFF, 0xFF, 0xFE, 0xFC, 0xF8, 0xE0, 0xC1, 0x03, 0x0F, 0x1F, 0x7F, 0xFF, 0xFF, 0xFF, 0xFF, 0xFE, 0xFC, 0xF8, 0xF8, 0xF0, 0xE0, 0xC0, 0xC0, 0x80, 0x01, 0x03, 0x03, 0x07, 0x0F, 0x1F, 0x3F, 0x7F, 0xFF, 0xFF, 0xFF, 0xFF, 0xFF, 0xFF, 0xFF, 0xFF, 0xFF, 0xFF, 0xFF, 0xFF, 0xFF, 0xFF, 0xFF, 0xFF, 0xFF, 0xFF, 0xFF, 0xFF, 0xFF, 0xFF, 
	0xFF, 0xFF, 0xFF, 0xFF, 0xFF, 0xFF, 0xFF, 0xFF, 0xFF, 0xFF, 0xFF, 0x03, 0x00, 0x80, 0xF8, 0xFF, 0xFF, 0xFF, 0xFF, 0xFF, 0xFF, 0xFF, 0xFF, 0xFF, 0xFF, 0xFF, 0xF0, 0x80, 0x00, 0x00, 0x00, 0x00, 0x00, 0x00, 0x00, 0x00, 0x00, 0x00, 0x00, 0x00, 0x00, 0x00, 0x00, 0x00, 0x00, 0x00, 0x00, 0x00, 0x00, 0x00, 0x00, 0x00, 0x00, 0x00, 0x00, 0x00, 0x00, 0x00, 0x00, 0x00, 0x00, 0x00, 0x00, 0x00, 0x00, 0x00, 0x00, 0x00, 0x00, 0x80, 0xF9, 0xFF, 0xFF, 0xFF, 0xFF, 0xFF, 0xFF, 0xFF, 0xFF, 0xFF, 0xFF, 0xFF, 0xFC, 0xC0, 0x00, 0x03, 0x7F, 0xFF, 0xFF, 0xFF, 0xFF, 0xFF, 0xFF, 0xFF, 0xFF, 0xFF, 0xFF, 0xFF, 0xFF, 0xFE, 0xFE, 0xFC, 0xF8, 0xF0, 0xF0, 0xE0, 0xC0, 0x80, 0x81, 0x03, 0x07, 0x0F, 0x1F, 0x3F, 0x7F, 0xFF, 0xFF, 0xFF, 0xFF, 0xFF, 0xFF, 0xFF, 0xFF, 0xFF, 0xFF, 0xFF, 0xFF, 0xFF, 
	0xFF, 0xFF, 0xFF, 0xFF, 0xFF, 0xFF, 0xFF, 0xFF, 0xFF, 0xFF, 0xF8, 0x00, 0x00, 0x0F, 0xFF, 0xFF, 0xFF, 0xFF, 0xFF, 0xFF, 0xFF, 0xFF, 0xFF, 0xFF, 0xFF, 0xFF, 0xFF, 0xFF, 0xFC, 0xF8, 0xF0, 0xE0, 0xC0, 0x80, 0x80, 0x00, 0x00, 0x00, 0x00, 0x00, 0x00, 0x00, 0x00, 0x00, 0x00, 0x00, 0x00, 0x00, 0x00, 0x00, 0x00, 0x00, 0x00, 0x00, 0x00, 0x00, 0x00, 0x00, 0x00, 0x00, 0x00, 0x00, 0x80, 0x80, 0xC0, 0xE0, 0xF0, 0xF8, 0xFE, 0xFF, 0xFF, 0xFF, 0xFF, 0xFF, 0xFF, 0xFF, 0xFF, 0xFF, 0xFF, 0xFF, 0xFF, 0xFF, 0xFF, 0x1F, 0x00, 0x00, 0xE0, 0xFF, 0xFF, 0xFF, 0xFF, 0xFF, 0xFF, 0xFF, 0xFF, 0xFF, 0xFF, 0xFF, 0xFF, 0xFF, 0xFF, 0xFF, 0xFF, 0xFF, 0xFF, 0xFF, 0xFF, 0xFF, 0xFF, 0xFF, 0xFE, 0xFC, 0xFC, 0xF8, 0xF0, 0xF0, 0xE3, 0xC7, 0xCF, 0xFF, 0xFF, 0xFF, 0xFF, 0xFF, 0xFF, 0xFF, 0xFF, 0xFF, 
	0xFF, 0xFF, 0xFF, 0xFF, 0xFF, 0xFF, 0xFF, 0xFF, 0xFF, 0xFF, 0xFF, 0xFE, 0xF8, 0xC0, 0x81, 0x07, 0x1F, 0x3F, 0xFF, 0xFF, 0xFF, 0xFF, 0xFF, 0xFF, 0xFF, 0xFF, 0xFF, 0xFF, 0xFF, 0xFF, 0xFF, 0xFF, 0xFF, 0xFF, 0xFF, 0xFF, 0xFF, 0xFE, 0xFE, 0xFC, 0xFC, 0xFC, 0xF8, 0xF8, 0xF8, 0xF8, 0xF8, 0xF8, 0xF8, 0xF8, 0xF8, 0xF8, 0xF8, 0xF8, 0xF8, 0xFC, 0xFC, 0xFC, 0xFE, 0xFE, 0xFF, 0xFF, 0xFF, 0xFF, 0xFF, 0xFF, 0xFF, 0xFF, 0xFF, 0xFF, 0xFF, 0xFF, 0xFF, 0xFF, 0xFF, 0xFF, 0xFF, 0xFF, 0xFF, 0x7F, 0x1F, 0x0F, 0x81, 0xC0, 0xF0, 0xFE, 0xFF, 0xFF, 0xFF, 0xFF, 0xFF, 0xFF, 0xFF, 0xFF, 0xFF, 0xFF, 0xFF, 0xFF, 0xFF, 0xFF, 0xFF, 0xFF, 0xFF, 0xFF, 0xFF, 0xFF, 0xFF, 0xFF, 0xFF, 0xFF, 0xFF, 0xFF, 0xFF, 0xFF, 0xFF, 0xFF, 0xFF, 0xFF, 0xFF, 0xFF, 0xFF, 0xFF, 0xFF, 0xFF, 0xFF, 0xFF, 0xFF, 0xFF, 
	0xFF, 0xFF, 0xFF, 0xFF, 0xFF, 0xFF, 0xFF, 0xFF, 0xFF, 0xFF, 0xFF, 0xFF, 0xFF, 0xFF, 0xFF, 0xFE, 0xFC, 0xF8, 0xF0, 0xE1, 0xC3, 0x87, 0x0F, 0x1F, 0x1F, 0x3F, 0x7F, 0x7F, 0xFF, 0xFF, 0xFF, 0xFF, 0xFF, 0xFF, 0xFF, 0xFF, 0xFF, 0xFF, 0xFF, 0xFF, 0xFF, 0xFF, 0xFF, 0xFF, 0xFF, 0xFF, 0xFF, 0xFF, 0xFF, 0xFF, 0xFF, 0xFF, 0xFF, 0xFF, 0xFF, 0xFF, 0xFF, 0xFF, 0xFF, 0xFF, 0xFF, 0xFF, 0xFF, 0xFF, 0xFF, 0xFF, 0xFF, 0xFF, 0xFF, 0x7F, 0x7F, 0x3F, 0x3F, 0x1F, 0x0F, 0x87, 0xC3, 0xE1, 0xF0, 0xF8, 0xFC, 0xFE, 0xFF, 0xFF, 0xFF, 0xFF, 0xFF, 0xFF, 0xFF, 0xFF, 0xFF, 0xFF, 0xFF, 0xFF, 0xFF, 0xFF, 0xFF, 0xFF, 0xFF, 0xFF, 0xFF, 0xFF, 0xFF, 0xFF, 0xFF, 0xFF, 0xFF, 0xFF, 0xFF, 0xFF, 0xFF, 0xFF, 0xFF, 0xFF, 0xFF, 0xFF, 0xFF, 0xFF, 0xFF, 0xFF, 0xFF, 0xFF, 0xFF, 0xFF, 0xFF, 0xFF, 0xFF, 0xFF, 
	0xFF, 0xFF, 0xFF, 0xFF, 0xFF, 0xFF, 0xFF, 0xFF, 0xFF, 0xFF, 0xFF, 0xFF, 0xFF, 0xFF, 0xFF, 0xFF, 0xFF, 0xFF, 0xFF, 0xFF, 0xFF, 0xFF, 0xFF, 0xFF, 0xFE, 0xFC, 0xFC, 0xF8, 0xF8, 0xF0, 0xF1, 0xF1, 0xE3, 0xE3, 0xC7, 0xC7, 0xC7, 0xC7, 0x8F, 0x8F, 0x8F, 0x8F, 0x8F, 0x8F, 0x9F, 0x1F, 0x1F, 0x1F, 0x1F, 0x1F, 0x1F, 0x1F, 0x9F, 0x8F, 0x8F, 0x8F, 0x8F, 0x8F, 0x8F, 0xC7, 0xC7, 0xC7, 0xC7, 0xE3, 0xE3, 0xE1, 0xF1, 0xF1, 0xF8, 0xF8, 0xFC, 0xFC, 0xFE, 0xFF, 0xFF, 0xFF, 0xFF, 0xFF, 0xFF, 0xFF, 0xFF, 0xFF, 0xFF, 0xFF, 0xFF, 0xFF, 0xFF, 0xFF, 0xFF, 0xFF, 0xFF, 0xFF, 0xFF, 0xFF, 0xFF, 0xFF, 0xFF, 0xFF, 0xFF, 0xFF, 0xFF, 0xFF, 0xFF, 0xFF, 0xFF, 0xFF, 0xFF, 0xFF, 0xFF, 0xFF, 0xFF, 0xFF, 0xFF, 0xFF, 0xFF, 0xFF, 0xFF, 0xFF, 0xFF, 0xFF, 0xFF, 0xFF, 0xFF, 0xFF, 0xFF, 0xFF, 0xFF, 0xFF, 
},
{	0xFF, 0xFF, 0xFF, 0xFF, 0xFF, 0xFF, 0xFF, 0xFF, 0xFF, 0xFF, 0xFF, 0xFF, 0xFF, 0xFF, 0xFF, 0xFF, 0xFF, 0xFF, 0xFF, 0xFF, 0xFF, 0xFF, 0xFF, 0xFF, 0xFF, 0xFF, 0xFF, 0xFF, 0xFF, 0xFF, 0x7F, 0x7F, 0x3F, 0x3F, 0x3F, 0x1F, 0x1F, 0x1F, 0x1F, 0x8F, 0x8F, 0x8F, 0x8F, 0x8F, 0x8F, 0x8F, 0x8F, 0xCF, 0xCF, 0xCF, 0x8F, 0x8F, 0x8F, 0x8F, 0x8F, 0x8F, 0x8F, 0x8F, 0x1F, 0x1F, 0x1F, 0x1F, 0x3D, 0x3C, 0x3C, 0x78, 0x78, 0xF8, 0xF0, 0xF0, 0xE1, 0xE1, 0xC1, 0x83, 0x83, 0x07, 0x07, 0x07, 0x0F, 0x0F, 0x1F, 0x1F, 0x3F, 0x3F, 0x7F, 0xFF, 0xFF, 0xFF, 0xFF, 0xFF, 0xFF, 0xFF, 0xFF, 0xFF, 0xFF, 0xFF, 0xFF, 0xFF, 0xFF, 0xFF, 0xFF, 0xFF, 0xFF, 0xFF, 0xFF, 0xFF, 0xFF, 0xFF, 0xFF, 0xFF, 0xFF, 0xFF, 0xFF, 0xFF, 0xFF, 0xFF, 0xFF, 0xFF, 0xFF, 0xFF, 0xFF, 0xFF, 0xFF, 0xFF, 0xFF, 0xFF, 0xFF, 0xFF, 
	0xFF, 0xFF, 0xFF, 0xFF, 0xFF, 0xFF, 0xFF, 0xFF, 0xFF, 0xFF, 0xFF, 0xFF, 0xFF, 0xFF, 0xFF, 0xFF, 0xFF, 0xFF, 0x7F, 0x3F, 0x1F, 0x0F, 0x8F, 0xC7, 0xC3, 0xE3, 0xE1, 0xF1, 0xF8, 0xF8, 0xFC, 0xFC, 0xFC, 0xFE, 0xFE, 0xFF, 0xFF, 0xFF, 0xFF, 0xFF, 0xFF, 0xFF, 0xFF, 0xFF, 0xFF, 0xFF, 0xFF, 0xFF, 0xFF, 0xFF, 0xFF, 0xFF, 0xFF, 0xFF, 0xFF, 0xFF, 0xFF, 0xFF, 0xFF, 0xFF, 0xFF, 0xFF, 0xFE, 0xFE, 0xFE, 0xFC, 0xFC, 0xF8, 0xF8, 0xF0, 0xF1, 0xE3, 0xC3, 0xC7, 0x8F, 0x0F, 0x1F, 0x3E, 0x7E, 0xFC, 0xF8, 0xF8, 0xF0, 0xE0, 0xC0, 0xC0, 0x80, 0x01, 0x03, 0x03, 0x07, 0x07, 0x0F, 0x1F, 0x3F, 0x3F, 0x7F, 0xFF, 0xFF, 0xFF, 0xFF, 0xFF, 0xFF, 0xFF, 0xFF, 0xFF, 0xFF, 0xFF, 0xFF, 0xFF, 0xFF, 0xFF, 0xFF, 0xFF, 0xFF, 0xFF, 0xFF, 0xFF, 0xFF, 0xFF, 0xFF, 0xFF, 0xFF, 0xFF, 0xFF, 0xFF, 0xFF, 0xFF, 
	0xFF, 0xFF, 0xFF, 0xFF, 0xFF, 0xFF, 0xFF, 0xFF, 0xFF, 0xFF, 0xFF, 0xFF, 0xFF, 0x3F, 0x0F, 0x07, 0xC1, 0xE0, 0xF8, 0xFC, 0xFE, 0xFF, 0xFF, 0xFF, 0xFF, 0xFF, 0xFF, 0xFF, 0xFF, 0xFF, 0xFF, 0xFF, 0xFF, 0xFF, 0xFF, 0xFF, 0xFF, 0xFF, 0xFF, 0xFF, 0xFF, 0xFF, 0xFF, 0xFF, 0xFF, 0xFF, 0xFF, 0xFF, 0xFF, 0xFF, 0xFF, 0xFF, 0xFF, 0xFF, 0xFF, 0xFF, 0xFF, 0xFF, 0xFF, 0xFF, 0xFF, 0xFF, 0xFF, 0xFF, 0xFF, 0xFF, 0xFF, 0xFF, 0xFF, 0xFF, 0xFF, 0xFF, 0xFF, 0xFF, 0xFF, 0xFF, 0xFE, 0xFC, 0xF8, 0xE0, 0xC1, 0x03, 0x0F, 0x1F, 0x7F, 0xFF, 0xFF, 0xFF, 0xFF, 0xFE, 0xFC, 0xF8, 0xF8, 0xF0, 0xE0, 0xC0, 0xC0, 0x80, 0x01, 0x03, 0x03, 0x07, 0x0F, 0x1F, 0x3F, 0x7F, 0xFF, 0xFF, 0xFF, 0xFF, 0xFF, 0xFF, 0xFF, 0xFF, 0xFF, 0xFF, 0xFF, 0xFF, 0xFF, 0xFF, 0xFF, 0xFF, 0xFF, 0xFF, 0xFF, 0xFF, 0xFF, 0xFF, 
	0xFF, 0xFF, 0xFF, 0xFF, 0xFF, 0xFF, 0xFF, 0xFF, 0xFF, 0xFF, 0xFF, 0x03, 0x00, 0x80, 0xF8, 0xFF, 0xFF, 0xFF, 0xFF, 0xFF, 0xFF, 0xFF, 0xFF, 0xFF, 0xFF, 0xFF, 0xFF, 0xFF, 0xFF, 0xFF, 0xFF, 0xFF, 0xFF, 0xFF, 0xFF, 0xFF, 0xFF, 0xFF, 0xFF, 0xFF, 0xFF, 0xFF, 0xFF, 0xFF, 0xFF, 0xFF, 0xFF, 0xFF, 0xFF, 0xFF, 0xFF, 0xFF, 0xFF, 0xFF, 0xFF, 0xFF, 0xFF, 0xFF, 0xFF, 0xFF, 0xFF, 0xFF, 0xFF, 0xFF, 0xFF, 0xFF, 0xFF, 0xFF, 0xFF, 0xFF, 0xFF, 0xFF, 0xFF, 0xFF, 0xFF, 0xFF, 0xFF, 0xFF, 0xFF, 0xFF, 0xFF, 0xFF, 0xFC, 0xC0, 0x00, 0x03, 0x7F, 0xFF, 0xFF, 0xFF, 0xFF, 0xFF, 0xFF, 0xFF, 0xFF, 0xFF, 0xFF, 0xFF, 0xFF, 0xFE, 0xFE, 0xFC, 0xF8, 0xF0, 0xF0, 0xE0, 0xC0, 0x80, 0x81, 0x03, 0x07, 0x0F, 0x1F, 0x3F, 0x7F, 0xFF, 0xFF, 0xFF, 0xFF, 0xFF, 0xFF, 0xFF, 0xFF, 0xFF, 0xFF, 0xFF, 0xFF, 0xFF, 
	0xFF, 0xFF, 0xFF, 0xFF, 0xFF, 0xFF, 0xFF, 0xFF, 0xFF, 0xFF, 0xF8, 0x00, 0x00, 0x0F, 0x0F, 0x1F, 0x1F, 0x1F, 0x1F, 0x1F, 0x3F, 0x3F, 0x3F, 0x3F, 0x3F, 0x7F, 0x7F, 0x7F, 0x7F, 0x7F, 0x7F, 0xFF, 0xFF, 0xFF, 0xFF, 0xFF, 0xFF, 0xFF, 0xFF, 0xFF, 0xFF, 0xFF, 0xFF, 0xFF, 0xFF, 0xFF, 0xFF, 0xFF, 0xFF, 0xFF, 0xFF, 0xFF, 0xFF, 0xFF, 0xFF, 0xFF, 0xFF, 0xFF, 0xFF, 0xFF, 0xFF, 0xFF, 0xFF, 0xFF, 0xFF, 0xFF, 0xFF, 0xFF, 0x7F, 0x7F, 0x7F, 0x7F, 0x3F, 0x3F, 0x3F, 0x1F, 0x1F, 0x0F, 0x0F, 0x07, 0x87, 0x87, 0xC3, 0x03, 0x00, 0x00, 0xE0, 0xFF, 0xFF, 0xFF, 0xFF, 0xFF, 0xFF, 0xFF, 0xFF, 0xFF, 0xFF, 0xFF, 0xFF, 0xFF, 0xFF, 0xFF, 0xFF, 0xFF, 0xFF, 0xFF, 0xFF, 0xFF, 0xFF, 0xFF, 0xFE, 0xFC, 0xFC, 0xF8, 0xF0, 0xF0, 0xE3, 0xC7, 0xCF, 0xFF, 0xFF, 0xFF, 0xFF, 0xFF, 0xFF, 0xFF, 0xFF, 0xFF, 
	0xFF, 0xFF, 0xFF, 0xFF, 0xFF, 0xFF, 0xFF, 0xFF, 0xFF, 0xFF, 0xFF, 0xFE, 0xF8, 0xC0, 0x80, 0x07, 0x1E, 0x3E, 0xFE, 0xFE, 0xFE, 0xFC, 0xFC, 0xFC, 0xFC, 0xFC, 0xF8, 0xF8, 0xF8, 0xF8, 0xF8, 0xF0, 0xF0, 0xF0, 0xF0, 0xF0, 0xF0, 0xF1, 0xE1, 0xE1, 0xE1, 0xE1, 0xE1, 0xE1, 0xE1, 0xE1, 0xE1, 0xE1, 0xE1, 0xE1, 0xE1, 0xE1, 0xE1, 0xE1, 0xE1, 0xE1, 0xE1, 0xE1, 0xE1, 0xE1, 0xE1, 0xE1, 0xF1, 0xF1, 0xF0, 0xF0, 0xF0, 0xF0, 0xF8, 0xF8, 0xF8, 0xF8, 0xFC, 0xFC, 0xFC, 0xFE, 0xFE, 0xFE, 0xFF, 0x7F, 0x1F, 0x0F, 0x81, 0xC0, 0xF0, 0xFE, 0xFF, 0xFF, 0xFF, 0xFF, 0xFF, 0xFF, 0xFF, 0xFF, 0xFF, 0xFF, 0xFF, 0xFF, 0xFF, 0xFF, 0xFF, 0xFF, 0xFF, 0xFF, 0xFF, 0xFF, 0xFF, 0xFF, 0xFF, 0xFF, 0xFF, 0xFF, 0xFF, 0xFF, 0xFF, 0xFF, 0xFF, 0xFF, 0xFF, 0xFF, 0xFF, 0xFF, 0xFF, 0xFF, 0xFF, 0xFF, 0xFF, 0xFF, 
	0xFF, 0xFF, 0xFF, 0xFF, 0xFF, 0xFF, 0xFF, 0xFF, 0xFF, 0xFF, 0xFF, 0xFF, 0xFF, 0xFF, 0xFF, 0xFE, 0xFC, 0xF8, 0xF0, 0xE1, 0xC3, 0x87, 0x0F, 0x1F, 0x1F, 0x3F, 0x7F, 0x7F, 0xFF, 0xFF, 0xFF, 0xFF, 0xFF, 0xFF, 0xFF, 0xFF, 0xFF, 0xFF, 0xFF, 0xFF, 0xFF, 0xFF, 0xFF, 0xFF, 0xFF, 0xFF, 0xFF, 0xFF, 0xFF, 0xFF, 0xFF, 0xFF, 0xFF, 0xFF, 0xFF, 0xFF, 0xFF, 0xFF, 0xFF, 0xFF, 0xFF, 0xFF, 0xFF, 0xFF, 0xFF, 0xFF, 0xFF, 0xFF, 0xFF, 0x7F, 0x7F, 0x3F, 0x3F, 0x1F, 0x0F, 0x87, 0xC3, 0xE1, 0xF0, 0xF8, 0xFC, 0xFE, 0xFF, 0xFF, 0xFF, 0xFF, 0xFF, 0xFF, 0xFF, 0xFF, 0xFF, 0xFF, 0xFF, 0xFF, 0xFF, 0xFF, 0xFF, 0xFF, 0xFF, 0xFF, 0xFF, 0xFF, 0xFF, 0xFF, 0xFF, 0xFF, 0xFF, 0xFF, 0xFF, 0xFF, 0xFF, 0xFF, 0xFF, 0xFF, 0xFF, 0xFF, 0xFF, 0xFF, 0xFF, 0xFF, 0xFF, 0xFF, 0xFF, 0xFF, 0xFF, 0xFF, 0xFF, 0xFF, 
	0xFF, 0xFF, 0xFF, 0xFF, 0xFF, 0xFF, 0xFF, 0xFF, 0xFF, 0xFF, 0xFF, 0xFF, 0xFF, 0xFF, 0xFF, 0xFF, 0xFF, 0xFF, 0xFF, 0xFF, 0xFF, 0xFF, 0xFF, 0xFF, 0xFE, 0xFC, 0xFC, 0xF8, 0xF8, 0xF0, 0xF1, 0xF1, 0xE3, 0xE3, 0xC7, 0xC7, 0xC7, 0xC7, 0x8F, 0x8F, 0x8F, 0x8F, 0x8F, 0x8F, 0x9F, 0x1F, 0x1F, 0x1F, 0x1F, 0x1F, 0x1F, 0x1F, 0x9F, 0x8F, 0x8F, 0x8F, 0x8F, 0x8F, 0x8F, 0xC7, 0xC7, 0xC7, 0xC7, 0xE3, 0xE3, 0xE1, 0xF1, 0xF1, 0xF8, 0xF8, 0xFC, 0xFC, 0xFE, 0xFF, 0xFF, 0xFF, 0xFF, 0xFF, 0xFF, 0xFF, 0xFF, 0xFF, 0xFF, 0xFF, 0xFF, 0xFF, 0xFF, 0xFF, 0xFF, 0xFF, 0xFF, 0xFF, 0xFF, 0xFF, 0xFF, 0xFF, 0xFF, 0xFF, 0xFF, 0xFF, 0xFF, 0xFF, 0xFF, 0xFF, 0xFF, 0xFF, 0xFF, 0xFF, 0xFF, 0xFF, 0xFF, 0xFF, 0xFF, 0xFF, 0xFF, 0xFF, 0xFF, 0xFF, 0xFF, 0xFF, 0xFF, 0xFF, 0xFF, 0xFF, 0xFF, 0xFF, 0xFF, 0xFF, 
}};

/* Bitmap data for mouth */
const PROGMEM byte Tiny_Logo_Resistor[] =
{
	0xFF, 0xFF, 0xFF, 0xFF, 0xFF, 0xFF, 0xFF, 0xFF, 0xFF, 0xFF, 0xFF, 0xFF, 0xFF, 0xFF, 0xFF, 0xFF, 0xFF, 0xFF, 0xFF, 0xFF, 0xFF, 0xFF, 0xFF, 0xFF, 0xFF, 0xFF, 0xFF, 0xFF, 0xFF, 0xFF, 0xFF, 0xFF, 0xFF, 0xFF, 0xFF, 0xFF, 0xFF, 0xFF, 0xFF, 0xFF, 0xFF, 0xFF, 0xFF, 0xFF, 0xFF, 0xFF, 0xFF, 0xFF, 0xFF, 0xFF, 0xFF, 0xFF, 0xFF, 0xFF, 0xFF, 0xFF, 0xFF, 0xFF, 0xFF, 0xFF, 0xFF, 0xFF, 0xFF, 0xFF, 0xFF, 0xFF, 0xFF, 0xFF, 0xFF, 0xFF, 0xFF, 0xFF, 0xFF, 0xFF, 0xFF, 0xFF, 0xFF, 0xFF, 0xFF, 0xFF, 0xFF, 0xFF, 0xFF, 0xFF, 0xFF, 0xFF, 0xFF, 0xFF, 0xFF, 0xFF, 0xFF, 0xFF, 0xFF, 0xFF, 0xFF, 0xFF, 0xFF, 0xFF, 0xFF, 0xFF, 0xFF, 0xFF, 0xFF, 0xFF, 0xFF, 0xFF, 0xFF, 0xFF, 0xFF, 0xFF, 0xFF, 0xFF, 0xFF, 0xFF, 0xFF, 0xFF, 0xFF, 0xFF, 0xFF, 0xFF, 0xFF, 0xFF, 0xFF, 0xFF, 0xFF, 0xFF, 0xFF, 0xFF, 
	0xFF, 0xFF, 0xFF, 0xFF, 0xFF, 0xFF, 0xFF, 0xFF, 0xFF, 0xFF, 0xFF, 0xFF, 0xFF, 0xFF, 0xFF, 0xFF, 0xFF, 0xFF, 0xFF, 0xFF, 0xFF, 0xFF, 0xFF, 0xFF, 0xFF, 0xFF, 0xFF, 0xFF, 0xFF, 0xFF, 0xFF, 0xFF, 0xFF, 0xFF, 0xFF, 0xFF, 0xFF, 0xFF, 0xFF, 0xFF, 0xFF, 0xFF, 0xFF, 0xFF, 0xFF, 0xFF, 0xFF, 0xFF, 0xFF, 0xFF, 0xFF, 0xFF, 0xFF, 0xFF, 0xFF, 0xFF, 0xFF, 0xFF, 0xFF, 0xFF, 0xFF, 0xFF, 0xFF, 0xFF, 0xFF, 0xFF, 0xFF, 0xFF, 0xFF, 0xFF, 0xFF, 0xFF, 0xFF, 0xFF, 0xFF, 0xFF, 0xFF, 0xFF, 0xFF, 0xFF, 0xFF, 0xFF, 0xFF, 0xFF, 0xFF, 0xFF, 0xFF, 0xFF, 0xFF, 0xFF, 0xFF, 0xFF, 0xFF, 0xFF, 0xFF, 0xFF, 0xFF, 0xFF, 0xFF, 0xFF, 0xFF, 0xFF, 0xFF, 0xFF, 0xFF, 0xFF, 0xFF, 0xFF, 0xFF, 0xFF, 0xFF, 0xFF, 0xFF, 0xFF, 0xFF, 0xFF, 0xFF, 0xFF, 0xFF, 0xFF, 0xFF, 0xFF, 0xFF, 0xFF, 0xFF, 0xFF, 0xFF, 0xFF, 
	0xFF, 0xFF, 0xFF, 0xFF, 0xFF, 0xFF, 0xFF, 0xFF, 0xFF, 0xFF, 0xFF, 0xFF, 0xFF, 0xFF, 0xFF, 0xFF, 0xFF, 0xFF, 0xFF, 0xFF, 0xFF, 0xFF, 0xFF, 0xFF, 0xFF, 0xFF, 0xFF, 0xFF, 0xFF, 0xFF, 0xFF, 0xFF, 0xFF, 0xFF, 0x3F, 0x0F, 0x0F, 0x3F, 0xFF, 0xFF, 0xFF, 0xFF, 0xFF, 0xFF, 0xFF, 0xFF, 0xFF, 0xFF, 0xFF, 0xFF, 0xFF, 0xFF, 0x7F, 0x1F, 0x07, 0x1F, 0x7F, 0xFF, 0xFF, 0xFF, 0xFF, 0xFF, 0xFF, 0xFF, 0xFF, 0xFF, 0xFF, 0xFF, 0xFF, 0xFF, 0xFF, 0x7F, 0x1F, 0x07, 0x1F, 0x7F, 0xFF, 0xFF, 0xFF, 0xFF, 0xFF, 0xFF, 0xFF, 0xFF, 0xFF, 0xFF, 0xFF, 0xFF, 0xFF, 0xFF, 0x3F, 0x0F, 0x0F, 0x3F, 0xFF, 0xFF, 0xFF, 0xFF, 0xFF, 0xFF, 0xFF, 0xFF, 0xFF, 0xFF, 0xFF, 0xFF, 0xFF, 0xFF, 0xFF, 0xFF, 0xFF, 0xFF, 0xFF, 0xFF, 0xFF, 0xFF, 0xFF, 0xFF, 0xFF, 0xFF, 0xFF, 0xFF, 0xFF, 0xFF, 0xFF, 0xFF, 0xFF, 0xFF, 
	0xFF, 0x1F, 0x0F, 0xC7, 0xE7, 0xE7, 0xE7, 0xC7, 0x0F, 0x1F, 0x3F, 0x3F, 0x3F, 0x3F, 0x3F, 0x3F, 0x3F, 0x3F, 0x3F, 0x3F, 0x3F, 0x3F, 0x3F, 0xFF, 0xFF, 0xFF, 0xFF, 0xFF, 0xFF, 0xFF, 0x3F, 0x0F, 0x03, 0xC0, 0xF0, 0xFE, 0xFE, 0xF0, 0xC0, 0x03, 0x0F, 0x3F, 0xFF, 0xFF, 0xFF, 0xFF, 0xFF, 0xFF, 0xFF, 0x3F, 0x0F, 0x81, 0xE0, 0xF8, 0xFE, 0xFC, 0xF0, 0xC1, 0x07, 0x1F, 0x7F, 0xFF, 0xFF, 0xFF, 0xFF, 0xFF, 0xFF, 0x7F, 0x1F, 0x07, 0xC1, 0xF0, 0xFC, 0xFE, 0xF8, 0xE0, 0x81, 0x0F, 0x3F, 0xFF, 0xFF, 0xFF, 0xFF, 0xFF, 0xFF, 0xFF, 0x3F, 0x0F, 0x03, 0xC0, 0xF0, 0xFE, 0xFE, 0xF0, 0xC0, 0x03, 0x0F, 0x3F, 0xFF, 0xFF, 0xFF, 0xFF, 0xFF, 0xFF, 0xFF, 0x3F, 0x3F, 0x3F, 0x3F, 0x3F, 0x3F, 0x3F, 0x3F, 0x3F, 0x3F, 0x3F, 0x3F, 0x3F, 0x1F, 0x0F, 0xC7, 0xE7, 0xE7, 0xE7, 0x87, 0x0F, 0x1F, 0xFF, 
	0xFF, 0xFC, 0xF8, 0xF0, 0xF3, 0xF3, 0xF3, 0xF1, 0xF8, 0xFC, 0xFE, 0xFE, 0xFE, 0xFE, 0xFE, 0xFE, 0xFE, 0xFE, 0xFE, 0xFE, 0xFE, 0xFE, 0xF8, 0xE0, 0x83, 0x0F, 0x3F, 0x1F, 0x07, 0xC1, 0xF0, 0xFC, 0xFF, 0xFF, 0xFF, 0xFF, 0xFF, 0xFF, 0xFF, 0xFF, 0xFC, 0xF0, 0xC1, 0x07, 0x1F, 0x3F, 0x0F, 0x83, 0xE0, 0xF8, 0xFE, 0xFF, 0xFF, 0xFF, 0xFF, 0xFF, 0xFF, 0xFF, 0xFF, 0xF8, 0xE0, 0x81, 0x07, 0x1F, 0x1F, 0x07, 0x81, 0xE0, 0xF8, 0xFF, 0xFF, 0xFF, 0xFF, 0xFF, 0xFF, 0xFF, 0xFF, 0xFE, 0xF8, 0xE0, 0x03, 0x0F, 0x3F, 0x1F, 0x07, 0xC0, 0xF0, 0xFC, 0xFF, 0xFF, 0xFF, 0xFF, 0xFF, 0xFF, 0xFF, 0xFF, 0xFC, 0xF0, 0xC1, 0x07, 0x1F, 0x3F, 0x0F, 0x83, 0xE0, 0xF8, 0xFE, 0xFE, 0xFE, 0xFE, 0xFE, 0xFE, 0xFE, 0xFE, 0xFE, 0xFE, 0xFE, 0xFE, 0xFC, 0xF8, 0xF1, 0xF3, 0xF3, 0xF3, 0xF0, 0xF8, 0xFC, 0xFF, 
	0xFF, 0xFF, 0xFF, 0xFF, 0xFF, 0xFF, 0xFF, 0xFF, 0xFF, 0xFF, 0xFF, 0xFF, 0xFF, 0xFF, 0xFF, 0xFF, 0xFF, 0xFF, 0xFF, 0xFF, 0xFF, 0xFF, 0xFF, 0xFF, 0xFF, 0xFC, 0xF8, 0xFC, 0xFF, 0xFF, 0xFF, 0xFF, 0xFF, 0xFF, 0xFF, 0xFF, 0xFF, 0xFF, 0xFF, 0xFF, 0xFF, 0xFF, 0xFF, 0xFF, 0xFC, 0xF8, 0xFC, 0xFF, 0xFF, 0xFF, 0xFF, 0xFF, 0xFF, 0xFF, 0xFF, 0xFF, 0xFF, 0xFF, 0xFF, 0xFF, 0xFF, 0xFF, 0xFE, 0xF8, 0xF8, 0xFE, 0xFF, 0xFF, 0xFF, 0xFF, 0xFF, 0xFF, 0xFF, 0xFF, 0xFF, 0xFF, 0xFF, 0xFF, 0xFF, 0xFF, 0xFF, 0xFC, 0xF8, 0xFC, 0xFF, 0xFF, 0xFF, 0xFF, 0xFF, 0xFF, 0xFF, 0xFF, 0xFF, 0xFF, 0xFF, 0xFF, 0xFF, 0xFF, 0xFF, 0xFF, 0xFC, 0xF8, 0xFC, 0xFF, 0xFF, 0xFF, 0xFF, 0xFF, 0xFF, 0xFF, 0xFF, 0xFF, 0xFF, 0xFF, 0xFF, 0xFF, 0xFF, 0xFF, 0xFF, 0xFF, 0xFF, 0xFF, 0xFF, 0xFF, 0xFF, 0xFF, 0xFF, 0xFF, 
	0xFF, 0xFF, 0xFF, 0xFF, 0xFF, 0xFF, 0xFF, 0xFF, 0xFF, 0xFF, 0xFF, 0xFF, 0xFF, 0xFF, 0xFF, 0xFF, 0xFF, 0xFF, 0xFF, 0xFF, 0xFF, 0xFF, 0xFF, 0xFF, 0xFF, 0xFF, 0xFF, 0xFF, 0xFF, 0xFF, 0xFF, 0xFF, 0xFF, 0xFF, 0xFF, 0xFF, 0xFF, 0xFF, 0xFF, 0xFF, 0xFF, 0xFF, 0xFF, 0xFF, 0xFF, 0xFF, 0xFF, 0xFF, 0xFF, 0xFF, 0xFF, 0xFF, 0xFF, 0xFF, 0xFF, 0xFF, 0xFF, 0xFF, 0xFF, 0xFF, 0xFF, 0xFF, 0xFF, 0xFF, 0xFF, 0xFF, 0xFF, 0xFF, 0xFF, 0xFF, 0xFF, 0xFF, 0xFF, 0xFF, 0xFF, 0xFF, 0xFF, 0xFF, 0xFF, 0xFF, 0xFF, 0xFF, 0xFF, 0xFF, 0xFF, 0xFF, 0xFF, 0xFF, 0xFF, 0xFF, 0xFF, 0xFF, 0xFF, 0xFF, 0xFF, 0xFF, 0xFF, 0xFF, 0xFF, 0xFF, 0xFF, 0xFF, 0xFF, 0xFF, 0xFF, 0xFF, 0xFF, 0xFF, 0xFF, 0xFF, 0xFF, 0xFF, 0xFF, 0xFF, 0xFF, 0xFF, 0xFF, 0xFF, 0xFF, 0xFF, 0xFF, 0xFF, 0xFF, 0xFF, 0xFF, 0xFF, 0xFF, 0xFF, 
	0xFF, 0xFF, 0xFF, 0xFF, 0xFF, 0xFF, 0xFF, 0xFF, 0xFF, 0xFF, 0xFF, 0xFF, 0xFF, 0xFF, 0xFF, 0xFF, 0xFF, 0xFF, 0xFF, 0xFF, 0xFF, 0xFF, 0xFF, 0xFF, 0xFF, 0xFF, 0xFF, 0xFF, 0xFF, 0xFF, 0xFF, 0xFF, 0xFF, 0xFF, 0xFF, 0xFF, 0xFF, 0xFF, 0xFF, 0xFF, 0xFF, 0xFF, 0xFF, 0xFF, 0xFF, 0xFF, 0xFF, 0xFF, 0xFF, 0xFF, 0xFF, 0xFF, 0xFF, 0xFF, 0xFF, 0xFF, 0xFF, 0xFF, 0xFF, 0xFF, 0xFF, 0xFF, 0xFF, 0xFF, 0xFF, 0xFF, 0xFF, 0xFF, 0xFF, 0xFF, 0xFF, 0xFF, 0xFF, 0xFF, 0xFF, 0xFF, 0xFF, 0xFF, 0xFF, 0xFF, 0xFF, 0xFF, 0xFF, 0xFF, 0xFF, 0xFF, 0xFF, 0xFF, 0xFF, 0xFF, 0xFF, 0xFF, 0xFF, 0xFF, 0xFF, 0xFF, 0xFF, 0xFF, 0xFF, 0xFF, 0xFF, 0xFF, 0xFF, 0xFF, 0xFF, 0xFF, 0xFF, 0xFF, 0xFF, 0xFF, 0xFF, 0xFF, 0xFF, 0xFF, 0xFF, 0xFF, 0xFF, 0xFF, 0xFF, 0xFF, 0xFF, 0xFF, 0xFF, 0xFF, 0xFF, 0xFF, 0xFF, 0xFF, 
};

/* Module 1 digital pins */
#define CS_DI1 10
#define DC_DI1 9
#define RST_DI1 8

/* Module 2 digital pins */
#define CS_DI2 7
#define DC_DI2 6 
#define RST_DI2 5

/* Optional module 3 digital pins (uncomment to use) */
//#define CS_DI3 4 
//#define DC_DI3 3 
//#define RST_DI3 2

#define EYEOPEN 0
#define EYECLOSED 1

/* Create an instance of the library for each display (uncomment all lines below if you are using 3 modules) */
HCuOLED HCuOLED1(SSD1307, CS_DI1, DC_DI1, RST_DI1); // For SH1106 displays (HCMODU0058 & HCMODU0059)
HCuOLED HCuOLED2(SSD1307, CS_DI2, DC_DI2, RST_DI2); // For SH1106 displays (HCMODU0058 & HCMODU0059)
//HCuOLED HCuOLED3(SH1106, CS_DI3, DC_DI3, RST_DI3); // For SSD1307 displays (HCMODU0050 & HCMODU0052)

void setup() 
{
  /* Reset the display */
  HCuOLED1.Reset();
  HCuOLED2.Reset();
  //HCuOLED3.Reset(); /* Uncomment for 3 modules */
}

void loop() 
{
  long EyeState;
  /* Generate a random number to create random blinking effect */
  EyeState = random(10);
  

  /* Display the face with eyes open */
  HCuOLED1.ClearBuffer();
  HCuOLED1.Bitmap(128, 8, Eye_Left[EYEOPEN]); 
  HCuOLED1.Refresh();
  HCuOLED2.ClearBuffer(); 
  HCuOLED2.Bitmap(128, 8, Eye_Right[EYEOPEN]); 
  HCuOLED2.Refresh(); 
  /* Uncomment below for 3 modules */
  //  HCuOLED3.ClearBuffer(); 
  //  HCuOLED3.Bitmap(128, 8, Tiny_Logo_Resistor); 
  //  HCuOLED3.Refresh();
  delay(500);
  
  switch(EyeState)
  {
    /* If random number = 0 then blink left eye */
    case 0:
      HCuOLED1.ClearBuffer(); 
      HCuOLED1.Bitmap(128, 8, Eye_Left[EYECLOSED]); 
      HCuOLED1.Refresh();
      delay(200);
      break;    
   
    /* If random number = 1 then blink right eye */
    case 1:
      HCuOLED2.ClearBuffer(); 
      HCuOLED2.Bitmap(128, 8, Eye_Right[EYECLOSED]); 
      HCuOLED2.Refresh();
      delay(200);
      break;  
 
    /* If random number = 2 then blink both eyes */    
    case 3:
      HCuOLED1.ClearBuffer(); 
      HCuOLED1.Bitmap(128, 8, Eye_Left[EYECLOSED]); 
      HCuOLED1.Refresh();
      HCuOLED2.ClearBuffer(); 
      HCuOLED2.Bitmap(128, 8, Eye_Right[EYECLOSED]); 
      HCuOLED2.Refresh();
      delay(500);
      break;      
  }
}